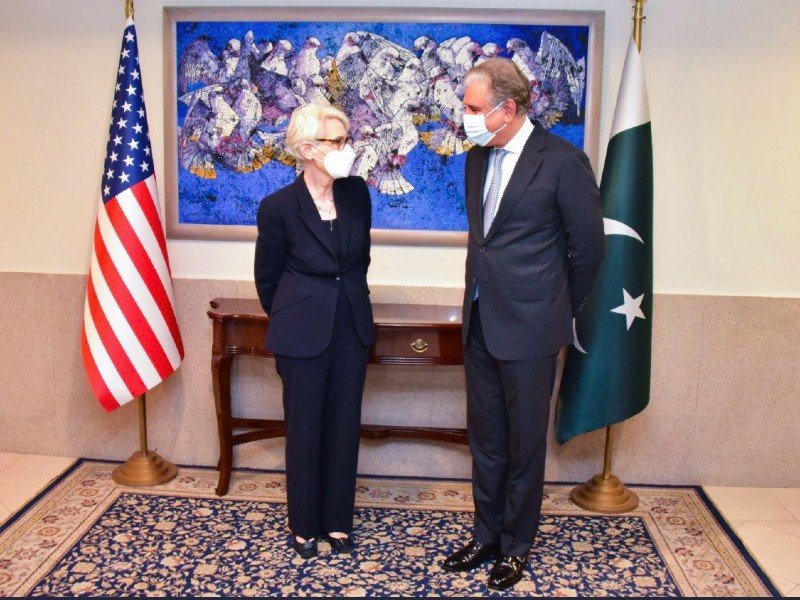 US Deputy Secretary of State Wendy Sherman's visit to Islamabad was a constructive way to chalk out the priorities of the bilateral relationship going forward. The US official had been in India before arriving in Pakistan, and comments there about keeping a narrow relationship with Islamabad in relation to Afghanistan was a clear indicator of where Washington DC's focus is.
The bilateral relationship has been more or less transactional historically. It appears that it will remain so in the future. Pakistan's regional tilt makes our prioritisation of allies clear. The outdated mindset reflected by many US officials relating to our role in the region makes any meaningful relationship difficult. US officials once described Pakistan as an indispensable ally before the relationship turned rather frosty. It is for the Americans to reflect on the downturn in the relationship and rectify as Pakistan has done more than its share.
'PM Imran will be responsible if i commit suicide ': Meera threatens govt for non provision of funds for her film
The situation in Afghanistan was quite naturally on the top of the agenda in the discussions that took place. But what was positive to see was that Secretary Sherman actively acknowledged the sacrifices made by Pakistan in this war on terror, both in terms of lives lost and the enormous cost borne by hosting up to 5 million refugees to help them escape the violence in Afghanistan.
Pakistan's border with Afghanistan necessitates some cooperation with the US and its allies due to the mutual desire for peace, but there is still some distance in the preferred strategy moving forward. The glacial pace taken by the US in releasing critical aid to Afghans suffering from a food shortage has only exacerbated problems in the country. The refusal to engage with the Taliban is similarly a stumbling block in disbursing aid effectively. However, from the comments from the US Secretary following this visit, it is unclear if much headway has been made on this front.
Punjab moves SC against LHC order to release TLP chief
Other issues touched upon included the pandemic, geo-economics and climate. But while discussions on these subjects took place, it appears that nothing substantial was agreed upon. Pakistan has no shortage of close friends and international partners. The bilateral relationship with the US is significant, but it is no longer a priority and the Foreign Office (FO) must continue to hedge its bets.
Source: Published in The Nation​