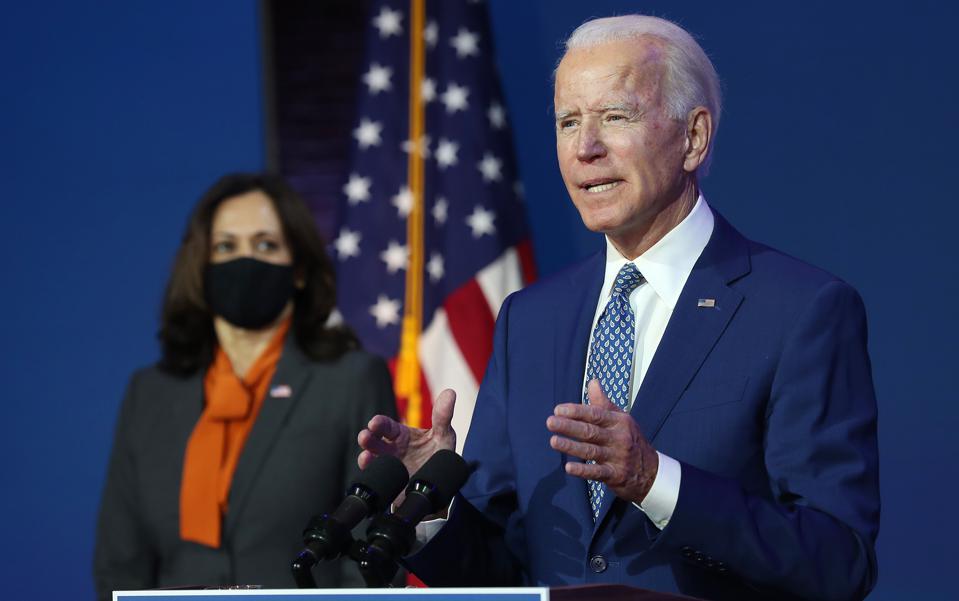 BIDEN will take oath as the 46th President of the United States on 20 January 2021. An important question that is being bandied about, especially in Pakistan is: How is the Biden Presidency going to be different from the Trump Presidency? I would reckon that the basic parameters of the foreign policy under Biden would remain the same with some nuanced differences here and there. Salient US objectives like Pakistan's help with the Afghan peace process and its internal efforts of dismantling the terrorist network at home are likely to remain the same. US-China rivalry, and US-Indian partnership is also expected to continue with a few calibrations in policy during Biden Presidency.
On the positive side, President-elect Biden's policies towards Pakistan are likely to be more mature and rational compared to Trump's. Biden would be assuming the American Presidency with rich experience in foreign relations. During Biden tenure Pakistan is likely to be presented with opportunities to strengthen its strategic and economic ties with the US especially as the US redefines its interests in the region after the withdrawal of its troops from Afghanistan and Iraq. Thus, even during expectations of policy continuity, Biden is expected to usher in a new era in Pak-US relations, in view of his more sympathetic opinion of Pakistan and his broader foreign policy views which are drastically different from Trump, to say the least.
Biden, besides having substantive and in-depth experience of foreign policy, also knows Pakistan very well, as he has visited Pakistan several times as Vice President. Mr Biden has been one of the principal architects, along with Senator John Kerry of the Kerry-Lugar-Berman Act of 2009 that prepared the path for the US providing annual civilian assistance of $1.5 billion to Pakistan between 2010 and 2014. More importantly, Biden believes in dealing with foreign powers through institutions, thus his approach is going to be much more structured and predictable than Trump's unpredictable and erratic approach towards foreign relations. Pak-US relations under Biden Presidency will also to an extent, be dependent upon circumstances and how certain geo-strategic options pan out on the ground in the region. In a favourable scenario, where Pakistan sincerely works towards peace in Afghanistan and successfully moves towards dismantling the terrorist infrastructure in Pakistan, Biden may consider restarting strategic dialogue launched during the Obama era. Biden's familiarity as well as comfort level with Pakistan, can enable the two countries to pursue a meaningful relationship.
Some likely tweaking of American foreign policy may also help Pak-US relationship. Biden is expected to take the edge of the toxic Sino-US relations, which will certainly be welcome for Pakistan. Similarly, Biden Presidency is likely to be less inimical towards Iran, with the option of re-entering the nuclear deal with certain conditions possible. In such an eventuality, Pakistan can enjoy the benefit of buying cheap energy from Iran. American under Biden are going to continue their close ties with India, but the possibility of the US questioning India about its human rights abuses in Kashmir and other places will certainly be present. On the other hand, if the US, Afghan peace efforts in Afghanistan go pear-shaped and America somehow believers that it is because of Pakistan, the Biden Administration may hold back on expanding relations with Pakistan. This will, however, be an unfair expectation from Pakistan, to singularly resolve the highly complex situation in Afghanistan.
As American's deepening security relationship with India grows, the US is likely to lessen its criticism of India on Kashmir. The US is more likely to press Pakistan, on taking action against India-specific militant groups on its soil. But unlike Trump, in spite of leaning towards India, Biden is still expected to take steps to restore the US's role as a strategic balancer between India and Pakistan. No doubt, America under the Biden presidency will try to bring down the heat a notch or two in the US-Sino relationship. But American's desire to blunt China's ambitious Belt and Road initiative and to contain its rise as a global power will continue. To be able to do this, US's strategic and geopolitical interests in the Indo-Pacific region will remain closely aligned with India. If Pakistan manages to keep a neutral position in the US-Sino relationship, it will be in a position to provide a communication back-channel between the US and China, if and when it is needed. Pakistan has already played the role once before in the 70s, when Islamabad facilitated Washington's outreach to Beijing. The facilitation resulted in President Richard Nixon paying a historic official visit to China in 1972.
In any case, Pak-US relations seem to be approaching an inflection point. As American troops are withdrawn from Afghanistan, Biden's broader Asia policy will need a new basis. The test of Pakistan's foreign policy would be, to keep Pakistan relevant in case of Biden's broader Asia policies of encircling China. Pakistan still needs to be on a very friendly basis with the US in spite of its closeness with China. Washington is Islamabad's largest trading partner, with an annual trade of $6.5. Islamabad also need's Washington assistance to continue receiving financial help from the International Monetary Fund (IMF) and the World Bank. Similarly, Pakistan also needs Washington's support to be taken out of the increased monitoring list of the Financial Action Tasks Force (FATF) – the global watchdog for terror financing.
One thing is very clear, Pakistan needs to have good relations with the only superpower in the world for a number of reasons. But Pakistan must also make some efforts, instead of waiting for the US Administration to do all the groundwork. Pakistan's discriminating taxation laws, regulating barriers and weak intellectual property safe ground, have to be reformed, to make Pakistan an attractive destination for American investment. This time around, Pak-US relations should perhaps revolve more around less tension creating spaces like education; IT; and clean energy's rather than unrealistic expectation about security co-operation. Recalibrating ties in this manner, will certainly keep Pakistan important for Biden' America's hopefully for the right reasons this time.
—The writer, based in Islamabad, is a former Health Minister of KP.
Source: https://pakobserver.net/us-policy-towards-pakistan-during-biden-presidency/